English
-THe Rose Culture Institute and the City of Sakura Rose Garden-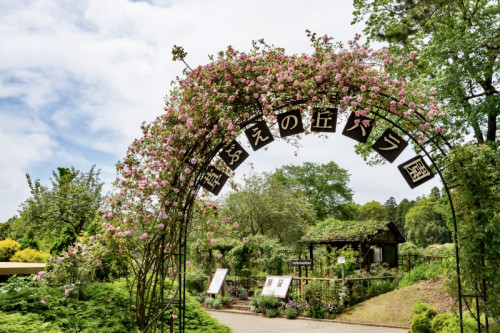 The Rose Culture Institute was established in 1995, and was registered by Chiba Prefecture as an non-profit organisation on the 18th of Jan. 2000. It is managed by an operating committee with six members and two full-time employees. On the 15th of May, 1996, it opened Rose Garden Alba, a garden specialising in collecting and preserving heritage roses. It was a forerunner of gardens of this kind in Japan, and helped many rose lovers to open their eyes to the beauty and importance of species and old garden roses.

While the garden enjoyed growing popularity among rose lovers, the increasing number of the varieties it had collected soon outgrew its capacity. In 2006, in cooperation with Sakura City, the institute newly opened the City of Sakura Rose Garden (Kusabue-no-oka ) on city land. Just a month after its opening, over 70 rose experts from abroad visited the garden on a tour after the World Federation of Rose Societies (WFRS) World Convention held in Osaka. Greatly encouraged by their kind words on the garden, and particularly by the suggestion of Mrs. Odile Masquelier, Katsuhiko Maebara and members of the NPO Rose Cultural Institute decided to invite an international rose conference to Sakura! Even though the conference had to be postponed for one year because of the terrible earthquake, tsunamis, and the calamities of a nuclear power station, excitement about hosting the conference and perseverance remained strong and the 12th WFRS International Heritage Rose Conference in Sakura was held in 2012.

The institute has been entrusted with the maintenance and management of this 13,000㎡ (3.2 acre) new garden with 2,500 plants of 1,050 different species and varieties. All the work is done by volunteers, 3,000 man hours per year. Small paths, pergolas, and benches in the garden were all built by the hands of these volunteer workers.

The rose garden is divided into sections specialising in different types of roses so visitors can easily learn about the unique features of species and old garden roses, and also the history of their development. In addition, we are aiming at a rose garden which will harmonise with the traditional landscape of Japanese countryside, where visitors can feel at home, and fully enjoy delicate colours and fragrances of the flowers.

The core of the collection is the varieties transplanted from Rose Garden Alba, but the collection has been greatly enriched by many precious species and varieties kindly donated by rose lovers in different countries of the world, including France, Italy, India, Australia, Japan, etc. We expect that our guests will be impressed not just by beautiful flowers, but by the goodwill and warm friendships developed through the common love of of roses among rosarians of the world.
The garden was honored in being chosen as a Hall of Fame Garden by the Great Rosarians of the World (GROW), Program 2014. We look forward to continuing to nurture the garden along with the City of Sakura for many to be able to enjoy for years to come
Mr.Rose, Seizo Suzuki (1913-2000)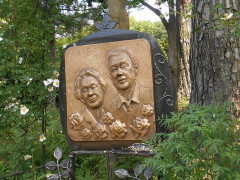 Seizo Suzuki opened a rose nursery in Tokyo when he was 24 years old. In 1958, he was invited into the Research Institute of Keisei Rose Nursery as its director. There he engaged in research of roses and in breeding new roses until he retired in 1993.

In an effort to create original new roses, he always strove for an effective breeding method fully based on scientific knowledge. He was particularly interested in the mechanism of biosynthesis of pigments and fragrances in rose flowers. Throughout his over 60 year breeding career, he raised as many as 129 new rose varieties, including 'Seika' ('Olympic Torch'; Gold Star of the South Pacific, New Zealand, 1972), 'Kampai' ('Cheers!', Grand Prize at Rome, 1982), and 'Kosai' ('Mikado', AARS, 1988).

While rigorously investigating the charms of roses through scientific methods, he also considered that an extensive knowledge of the history of roses and rose-related art is essential for breeders. The books he wrote, which reflect his far-reaching interest in the botanical, historical, and artistic study of roses, have had a strong influence on all rose lovers and breeders in Japan. The lectures he gave on TV gardening programmes also spread the joy of rose growing among Japanese gardeners.

He fully realised the importance of wild species and old garden roses in the early period of his career --in the 1960's, and established a great collection of heritage roses at the research institute of Keisei Rose Nursery. The number of rose varieties and species he collected supposedly reached almost 2,000. Mr. Peter Harkness, who saw the collection in 1993, wrote: "For quality of growth and richness of variety I have never seen its like. I could have stayed for days." (The Rose, RNRS, Christmas 1993). When Mr. Suzuki retired from the work of Keisei Rose Nursery, one of his disciples, Katsuhiko Maebara, took over part of this collection, which laid the basis for the collection of the City of Sakura Rose Garden (Kusabue-no-oka) today